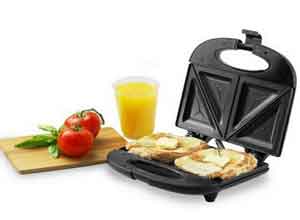 How to get the deal
---
Click Here Go to  Offer Page.
Add Product to the cart.
Enter the shipping details.
Make the final payment of your product.
Enjoy the deal. 
Product Description Nova NSM 2409 750-Watt 2-Slice Sandwich Maker
Cool touch handle, cut and seal plates

Vertical storage, sandwich plate and teflon

Warranty: 1 year on product

Power: 750 watts; Operating voltage: 210-250 volts

Includes: Sandwich maker and instruction manual
Product Description
A well known reputed brand since 1975, NOVA Grill Sandwich guarantees to transform your Grilling Bites Experience. Make Crispy, Tasty Sandwiches in minutes. The Non-Stick Coating Grill Plate, Overheat Safety Protection and Indicator Lamps enables Perfect Grill for your snacks. Make up to 2 sandwiches together. It is easy and safe to handle, operate and clean. A premium quality product at very affordable price.
FEATURES:-
1. 2 Slice Grill Sandwich Maker
2. Non-Stick Coated Grill Plate for Easy Cleaning
3. Cool Touch Plastic Body
4. Indicator Lamps
5. Overheat Safety Protection
6. Thermostat Control
7. Power Cord Storage
TECHNICAL SPECIFICATIONS:-
750 Watts
AC 220-240-50hz
It can operate on normal. . its normal device. . .no need high power voltage. . its best in making instant toasts
Yes .this samdwhich maker is for that only