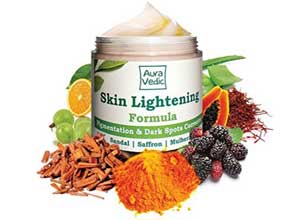 How to get the deal
---
Click Here Go to  Offer Page.
Add Product to the cart.
Enter the shipping details.
Make the final payment of your product.
Enjoy the deal.
Important Information for 
Auravedic Skin Lightening Formula 100g
Ingredients:
Extracts of Red Sandal, Saffron, Mulberry, Aloe Vera, Amla, Turmeric, Green Tea, Tulsi, Licorice, Arbutin, Papaya Enzymes, Wheat Germ Oil, Jojoba Oil, Coconut Oil, Lemon Oil, Beeswax, Steareth 10, Carbomer, Shea Butter, Stearic Acid, Emulsifying Wax, Ceteryl Alcohol, Phenoxyethanol, Ethylhexylglycerin, Purified Water.Directions:
Gently massage onto skin until completely & thoroughly absorbed. Use 2-3 times day & night.
Product Description
Pure Sandal, Saffron & Mulberry extracts help reduce tanning, dark spots, blemishes & uneven skin tone to aid and enhance skin texture, leaving skin glowing & radiant.
Mulberry is an excellent source of Vitamin C to lighten marks caused by sun exposure and pigmentation or acne.

Saffron illuminates the skin making it brighter and lighter.

Red Sandal wood smoothens the skin and gives it an even tone.